(A few months back, I wrote a post about
my first trip to Australia when I was 12
. Here's the promised next installment).
In 1995 I became actively involved in a "social networking" community known as
CU-SeeMe
. Using Connectix webcams and, at first, Macs, several people could log into a virtual space called a "reflector" where we could see several black & white video feeds of people from around the globe. This was before high-speed internet was available in the home, so most of us engaged in CU-SeeMe while at work on our universities' high-speed connections. Because I lived in Los Angeles at the time, during a regular business day I had the temporal advantage of being able to talk to people in Europe who were finishing their day, Americans (and Canadians) who were still at work, and, finally, Australians and New Zealanders who were just getting to the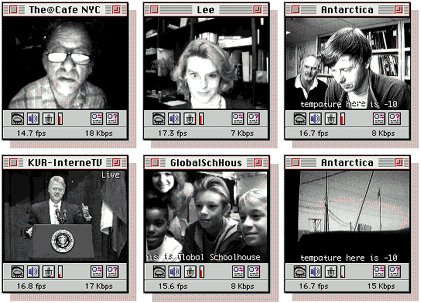 ir jobs in the morning. Because the audio didn't work so well, we mostly sent text messages to one another through a central chat window. Two of the people I met on this system were Fiona and Kirsty, who worked at the Earth Sciences Department at Monash University in Melbourne. It's amazing to think about how many hours everyone spent "hanging out" with each other in this way. In December of that year, I organized a large meeting of CU-SeeMe participants at a cybercafe in Venice, CA. Many people flew in from all over the country, but it was Fiona, who was pregnant at the time, who came the farthest, flying all the way from Australia. The whole group of us spent a lot of time together sight-seeing and then going to the big party at the café.
Seal
(yes, the singer), who was a semi-regular in our chat sessions along with
Timothy Leary
, promised to show up that night, but never arrived. Still, we got some attention from some news outlets, had a chance to see what we were like in person (and in color!), and then we all headed back to our respective computers.
In 1996, Patty (my wife at the time) was starting up a major research project in Brisbane, Australia. I went with her for a month, thus marking my second visit to Oz. During that trip, Kirsty and her partner, Tony, spent a week with us in the Whitsundays on the Great Barrier Reef. Later I flew down to Melbourne to spend a few days with Fiona and her husband Ian, and their new baby, Ellen. I also drove to Canberra and Wagga Wagga to visit some old haunts. Over the next five years, I went to Australia two more times with Patty, and I stopped off each time to see Fi and Kirsty in Melbourne. And we always stayed in Toowong whenever we were in Brisbane.
You know what's cool? We (that's V., Will, and me!) now
live
in Toowong. And Fiona, Ian, Ellen (who is now 11), and Sally (who is 8) ended up moving to Brisbane last year, and live just a couple of kilometers away.
It really is a small world after all. (Look for Part III soon...)